Save the Date: Picture Day is coming up on Monday, September 25th, 2023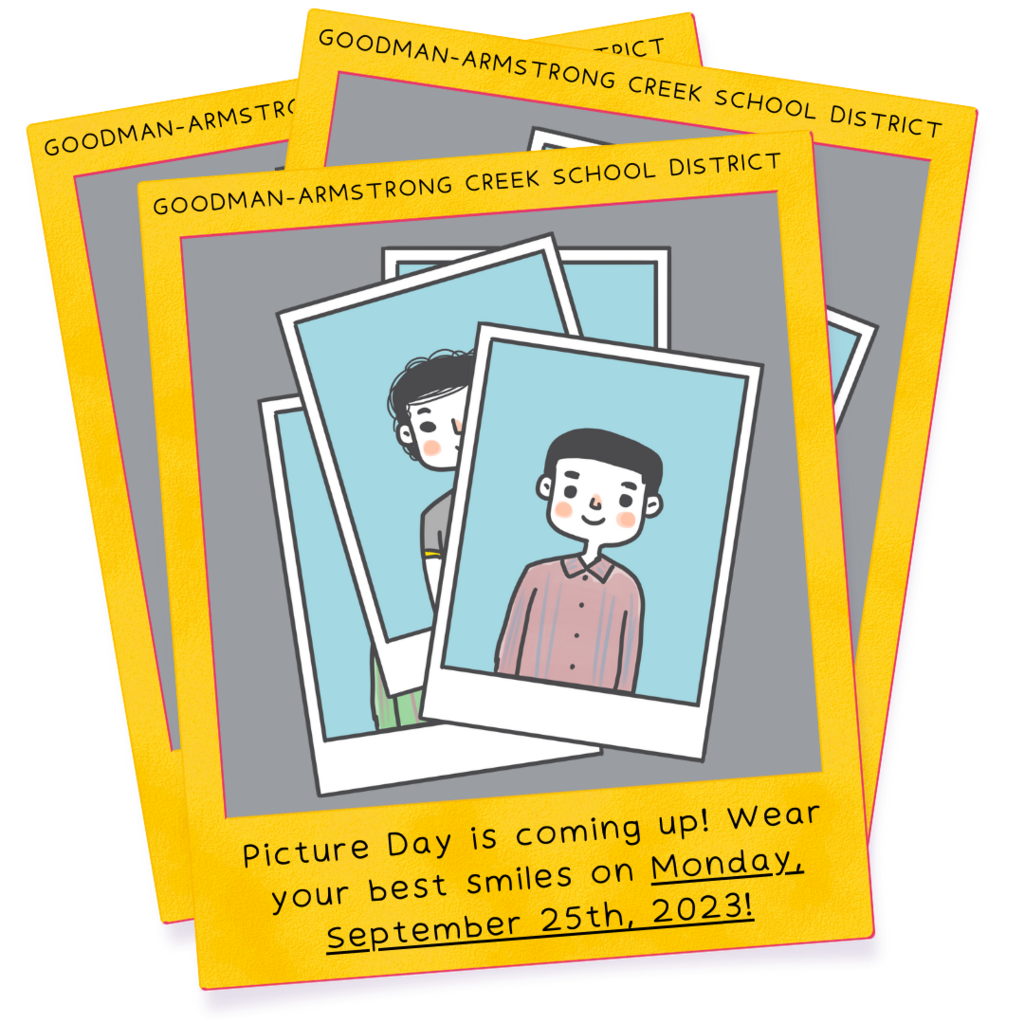 We have a Homecoming Football game! Come support the middle school Patriots as they go against the Three Lakes/Phelps Bluejays at noon on Saturday, October 7th, 2023. This game is held at the Goodman-Armstrong Creek High School Field.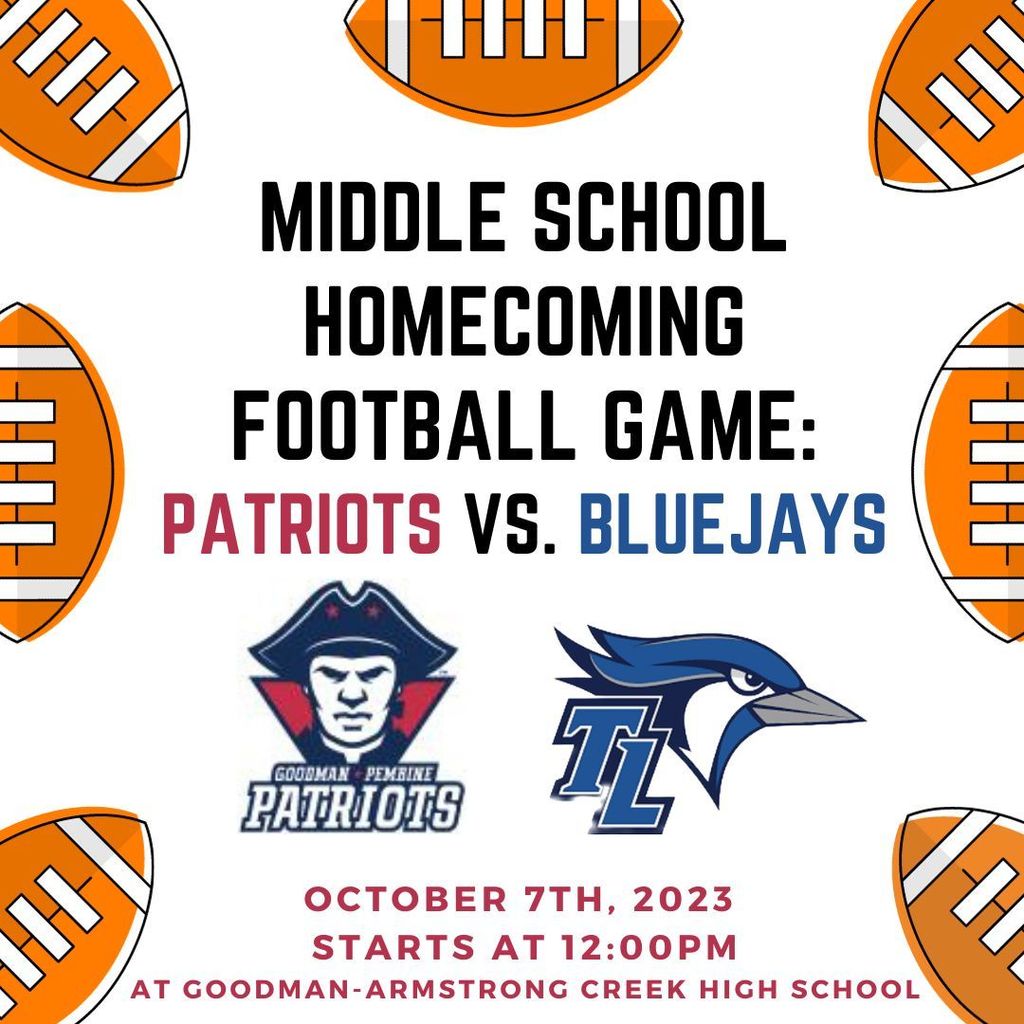 Morning fun with Kindergarten and 1st Grade!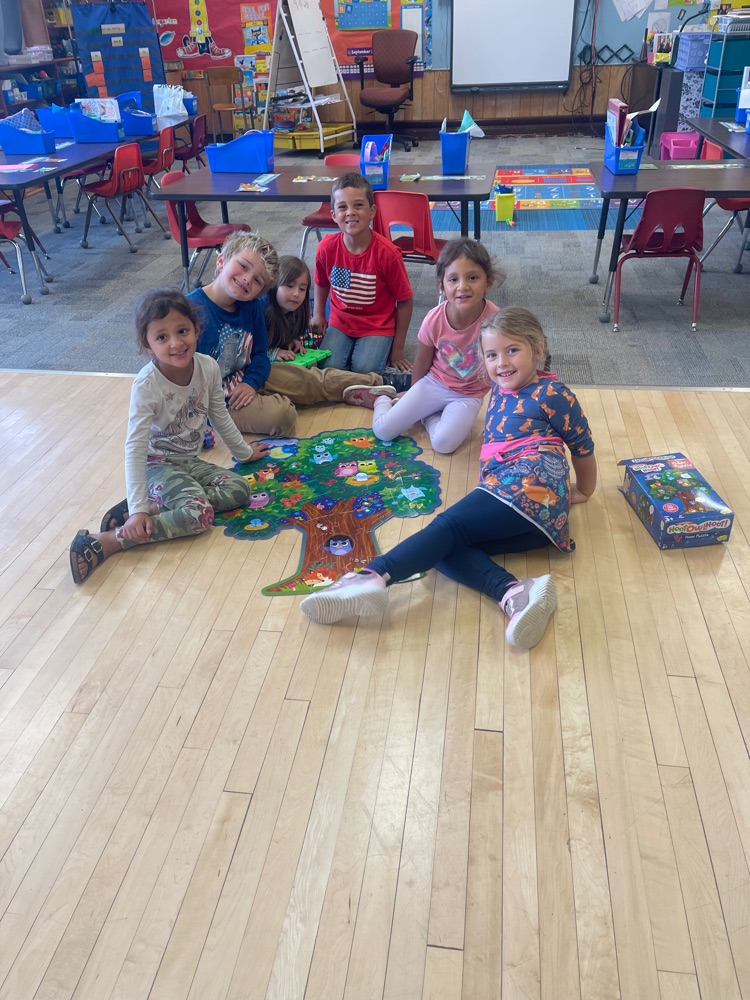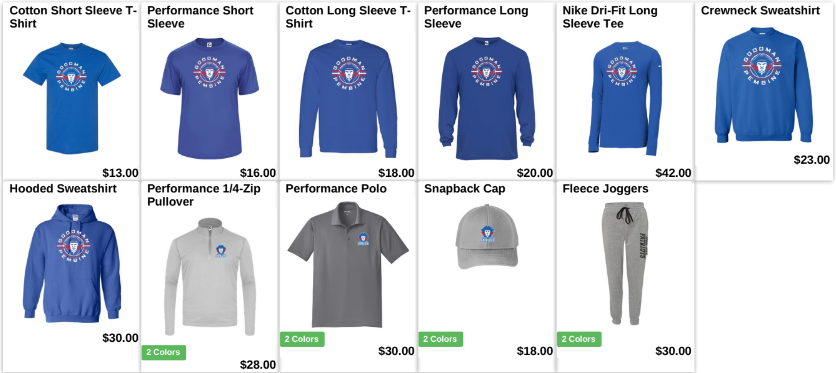 Communities that Care of Marinette & Menominee Counties is pleased to announce it will be hosting a virtual education event, "A Parent's Role in Youth Substance Use Prevention" via Google Classroom the week of October 16th! This self-paced course will educate adults on substance use trends among youth and equip them with knowledge and resources on how to help youth in their lives navigate through these trends. Registration for this event (
https://CTCPARENTED.eventbrite.com
) opens Monday, September 11th at 7:00 a.m. and will close at midnight on October 13th, or when sold out. The classroom is limited to the first 50 parents/guardians/adults who register. Those who complete every assignment beginning Monday, October 16th through midnight on Sunday, October 22nd will receive a $50 Amazon gift card incentive. All assignments MUST be completed by this deadline of midnight on October 22nd to be eligible to receive the gift card. For more information on the topics and agenda outline, please visit the event page description through the registration link.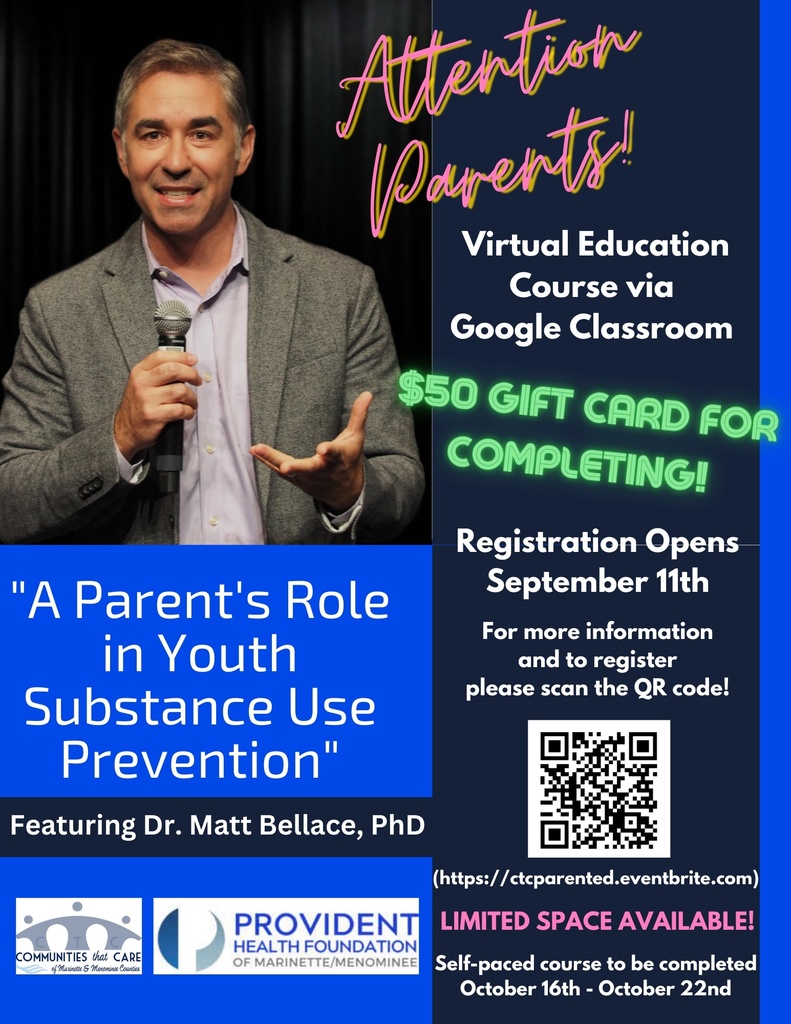 Back to School night is this week, Wednesday (8/30/23) 5:00 to 7:00 PM! GAC Students and Families are invited to celebrate the 2023/2024 school year beginning at the GAC Elementary School We will have a cookout & fun activities for all!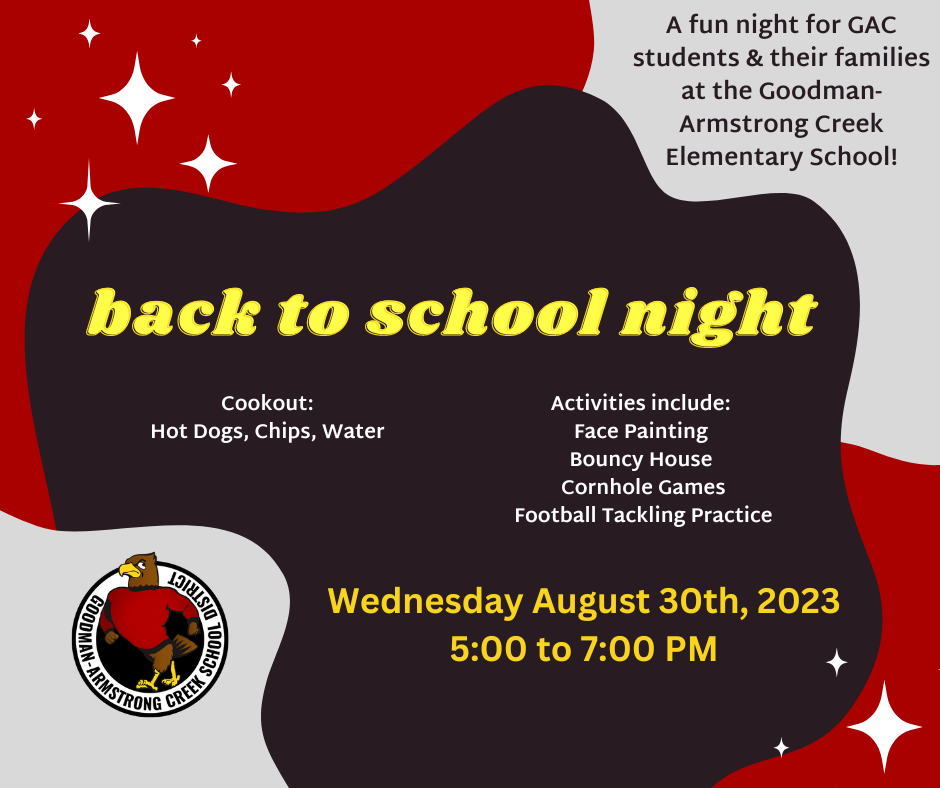 Our Senior Class of 2024. Wishing them a happy last, first day of high school!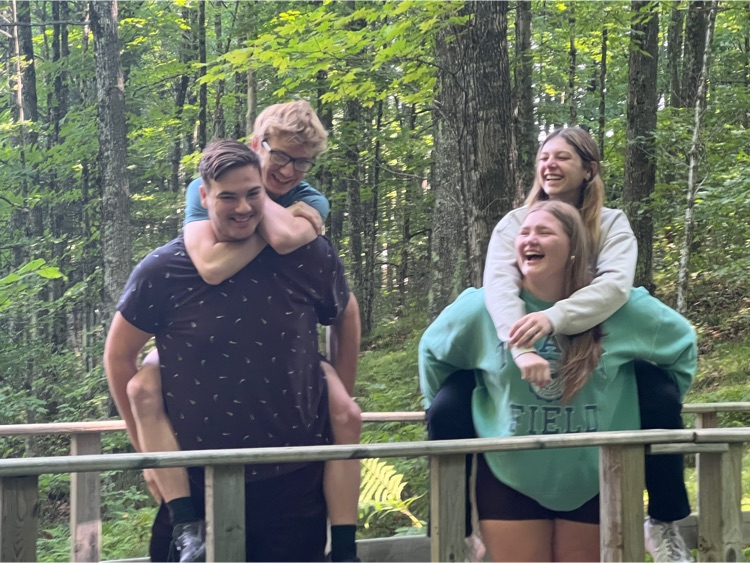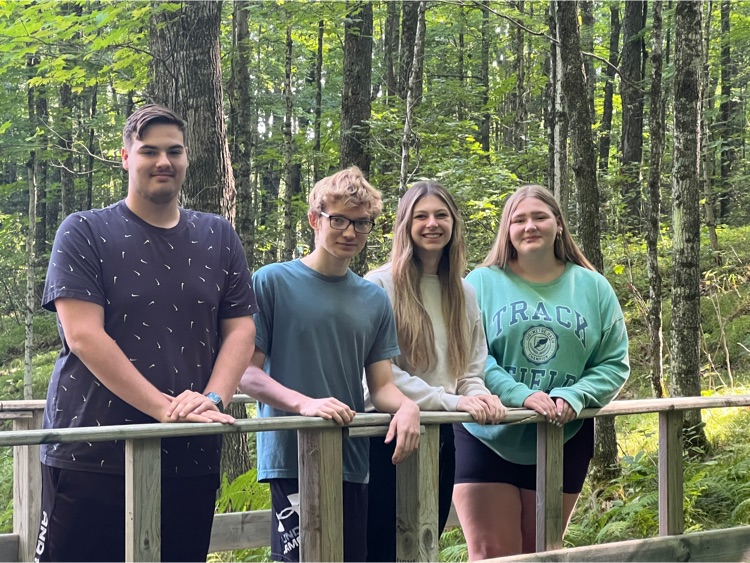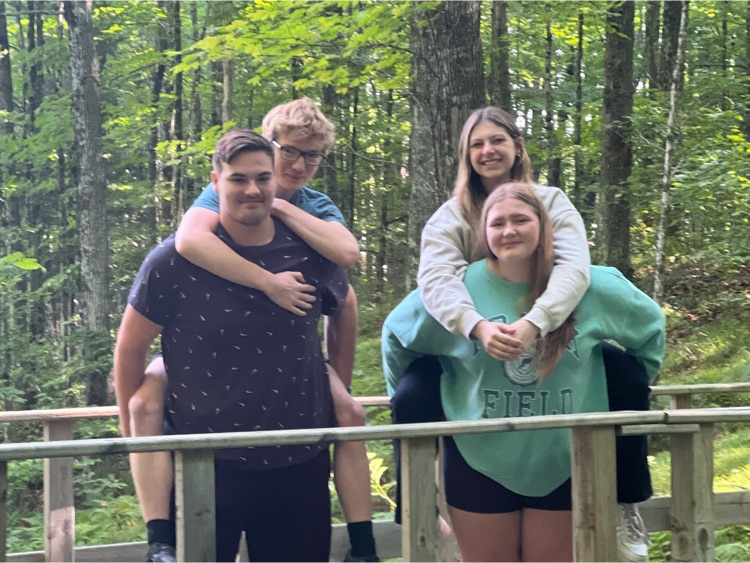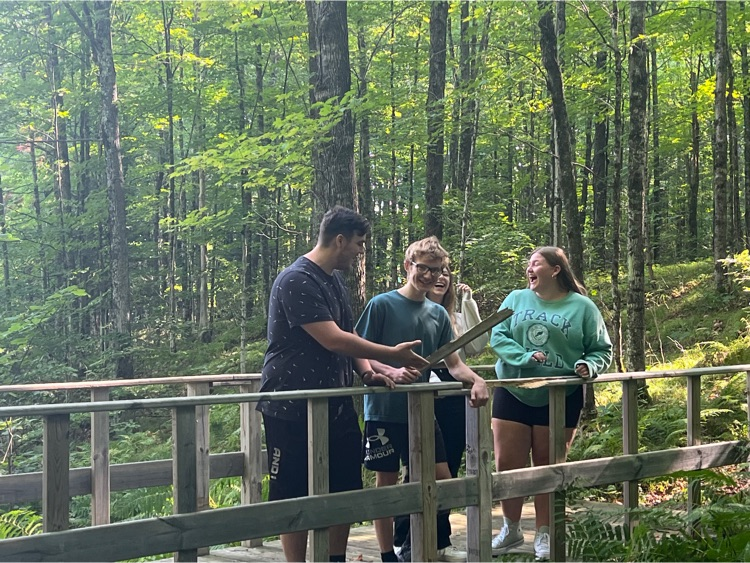 Back to School time is here! Time: 3:00 - 6:00 PM Day: Wednesday (8/23/23) Where: The High School and Elementary School See your teachers & drop off your supplies. Hope to see you there!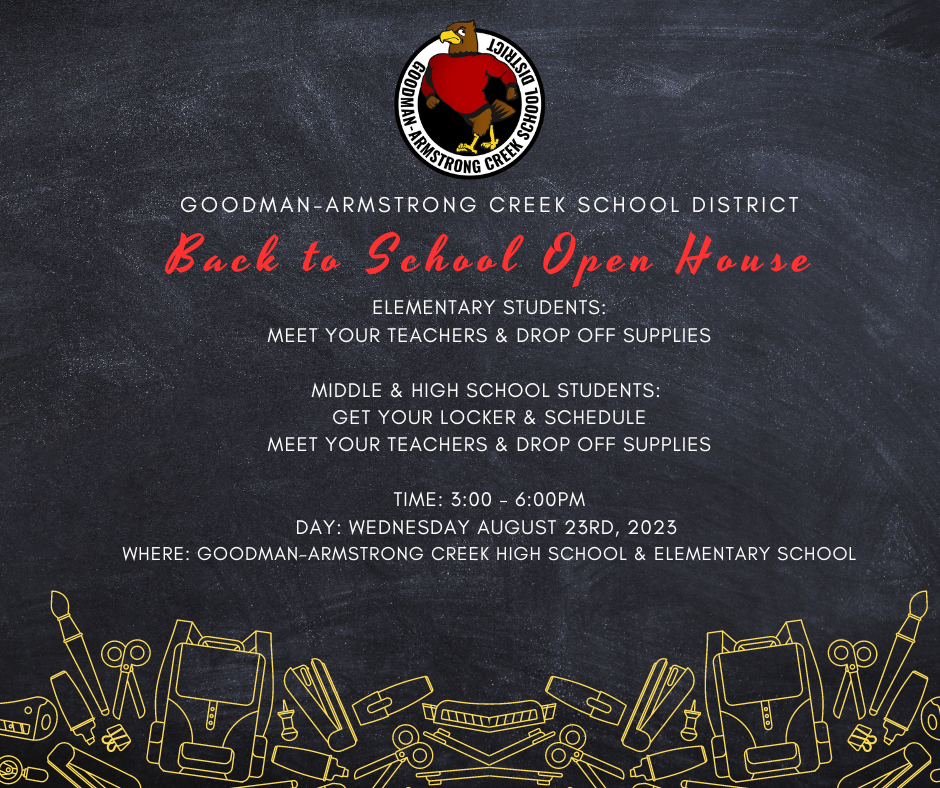 New Student Registration for the 2023/2024 school year is coming up! Monday - Thursday, August 14th - 17th, 2023 7:30 AM - 3:30 PM At the Goodman-Armstrong Creek High School office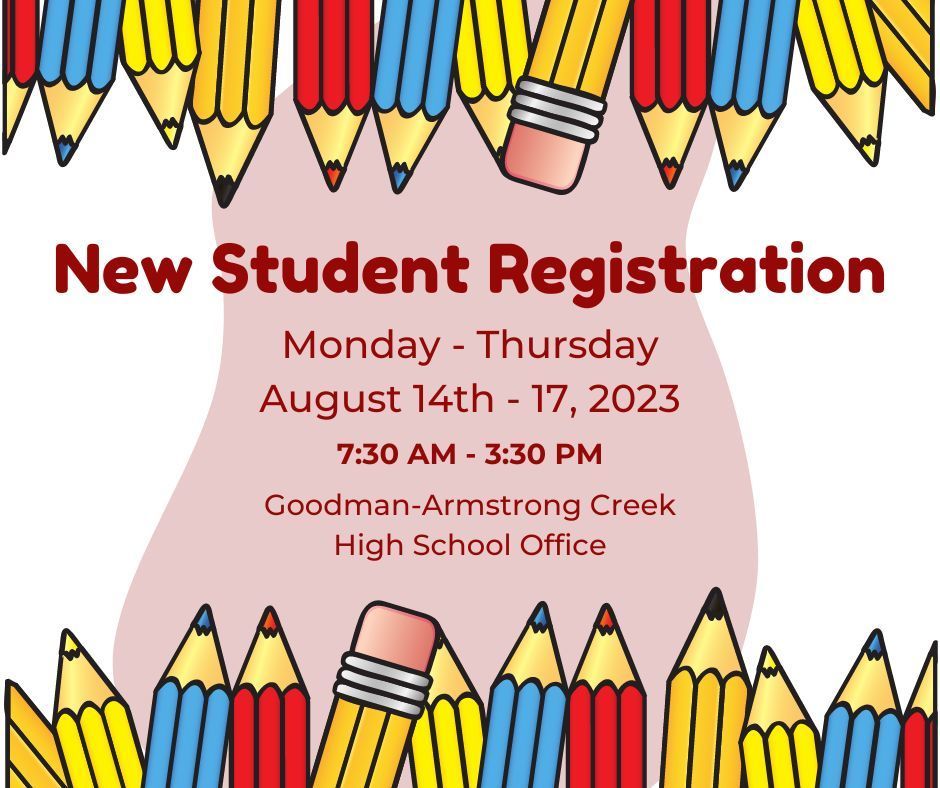 Held awards ceremony for the golf team yesterday, Josh Knutson recieved MVP and a second year letter, Pietro Ipsa recieved most improved player and first year letter and Josh Wysocki recieved the Patriot award and was nominated for academic all conference in golf. Great season!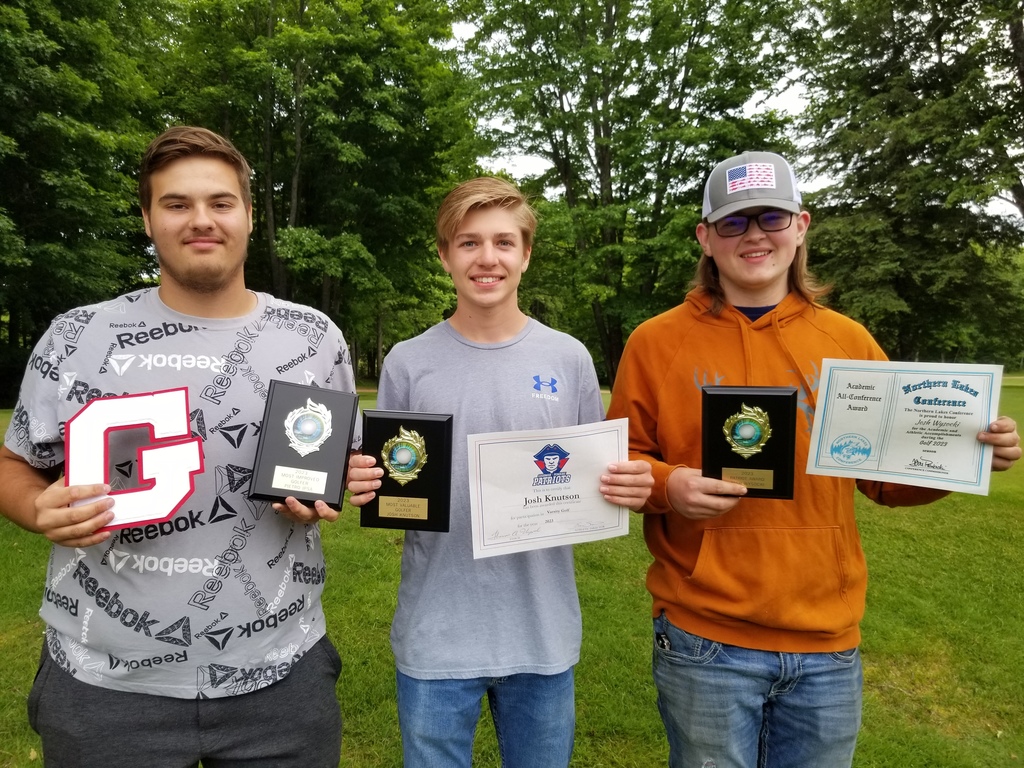 Tonight, Tuesday, May 30, there is a mandatory sports meeting for all 2023-24 athletes in grades 6-12th grades and their parents. It will be held in the GAC high school gym at 5:30PM. If you are unable to attend please email Mr. Esqueda to set up a separate meeting before the start of the school year.
besqueda@goodman.k12.wi.us

Last day of school some of the students rode their quads in. Then the senior riders drove down to the grade school for the senior walk through. Great memories made.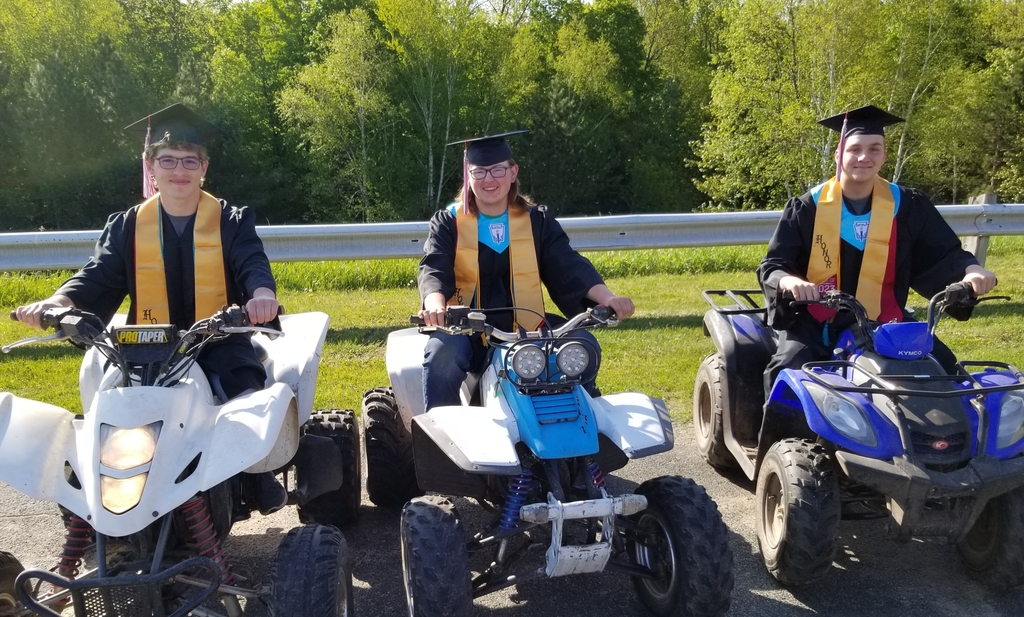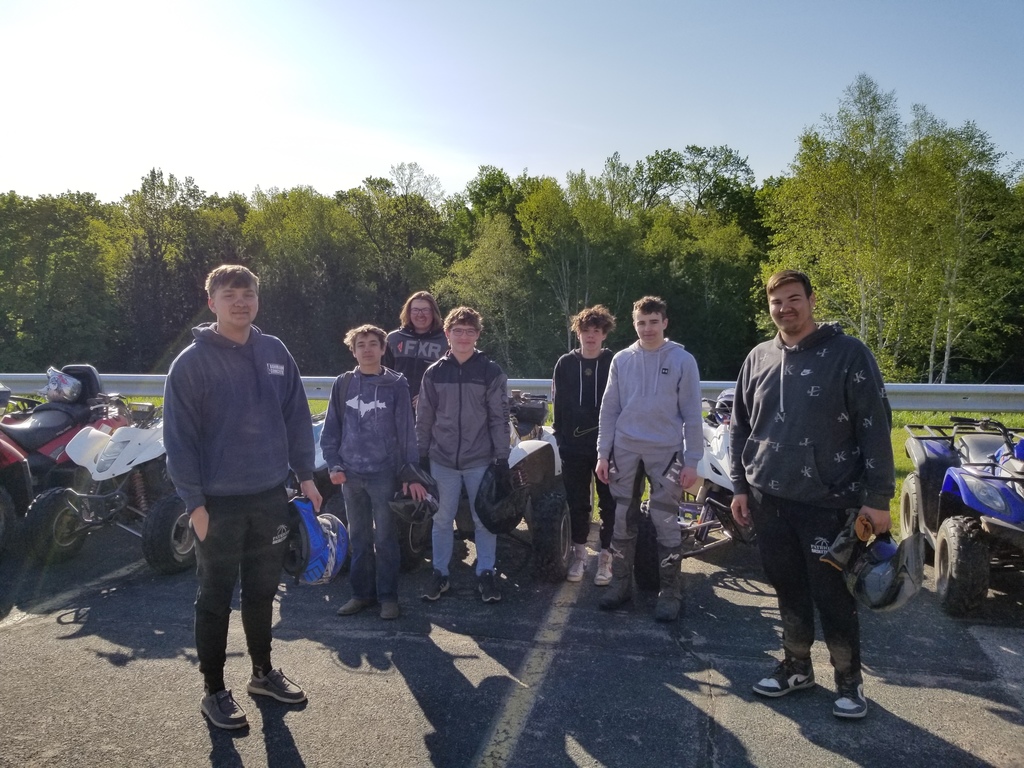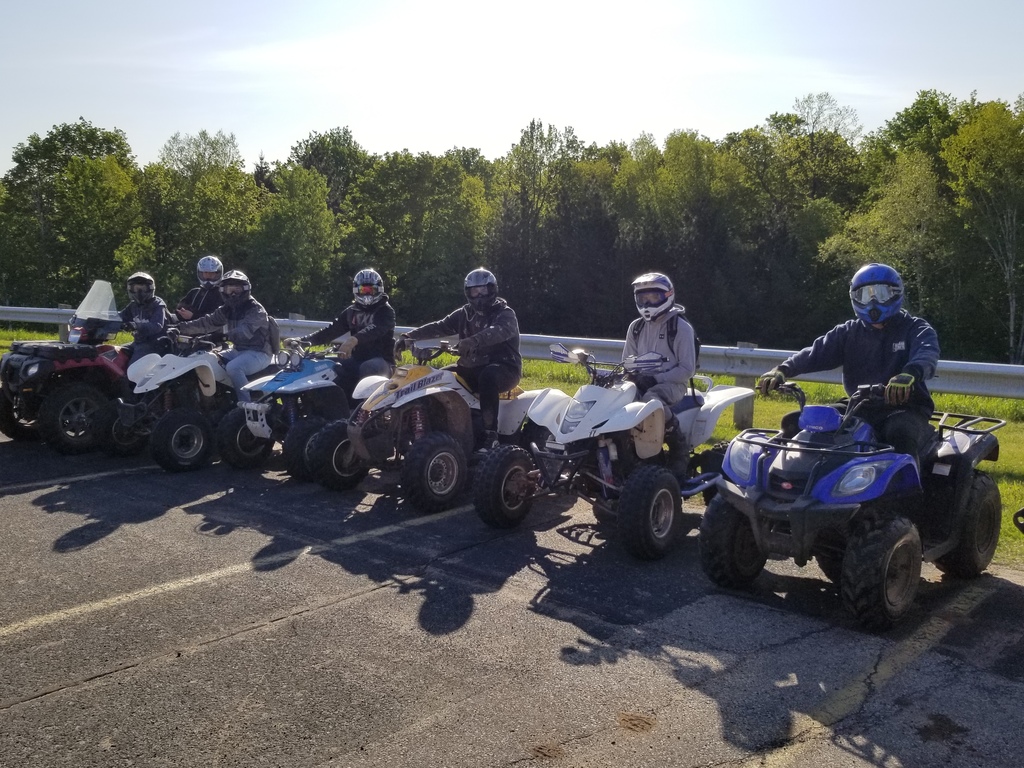 Today we appreciate the math teacher up at the middle & high school; Mrs. Melcher! How long have you been teaching here? *This is my first year teaching here. What do you like about teaching at a small school? *I like teaching at a small school because I have more time to interact with the students one-on-one during class time which helps to build a better relationship with them. What made you want to become a teacher? *I wanted to become a teacher because I was not the best math student, believe it or not. When I was in high school I remember struggling on several math concepts and when I was able to complete a problem involving long division of polynomials with the right answer, I was very proud of myself. I made a goal for myself that if I ever became a math teacher, I would like to be able to change at least one person's perception of math to a more positive situation each year. What do you like to do for fun when you aren't teaching? *When I am not teaching, I like to relax by spending time with family (playing cards - Cribbage, Sheepshead, Hand-N-Foot; fishing, camping), watching TV/movies, and reading. What did you do before you worked here? *Before I worked at Goodman Armstrong Creek School District, I worked at Wabeno Area School District. Is there anything else you would like to share? *Before I became a teacher, I worked in food service (Burger King, Domino's, McDonald's; 2 nursing homes), for the Department of Public Instruction (after-school tutor), and for Northcentral Technical College (math adjunct instructor). On behalf of the student body, we would like to thank Mrs. Melcher for everything she does for our school.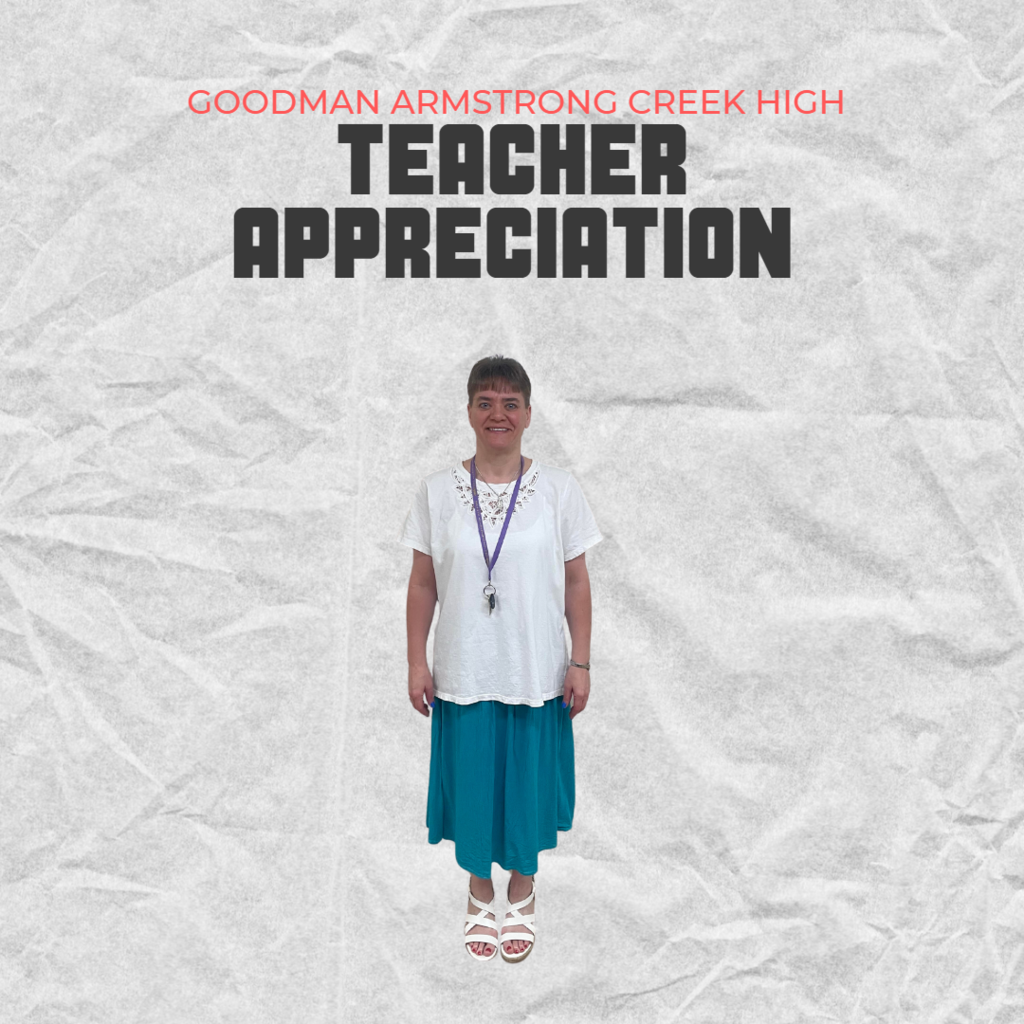 Today we celebrate & we are appreciative of Mrs. Braaten! How long have you been teaching here? At the end of this year will be her first year here. What are some things you like about teaching at a small school? Their impact on helping us transition into adulthood, especially giving the kids a heads up for personal finance, and being able to plug practical stuff that we will use after school excites her. What made you want to become a teacher? She didn't know she liked teaching until she homeschooled her kids, and she felt like she was good at it. Life took her in different directions and at past jobs she didn't get a good connection, she feels that teaching gets more of a personal impact. What do you like to do for fun when you aren't teaching? Go to sports events, camping, and reading, and she tries to garden. What did you do before you worked here? Revenue analyst at Carter Casino for 7 years and at the post office before that, waitressed, and other accounting jobs. If you have any pets what are they and their names? Sophie Jo, boxer Boston mix. Is there anything else you would like to share... She loves her job. We are thankful for all that Mrs. Braaten does for us at GAC!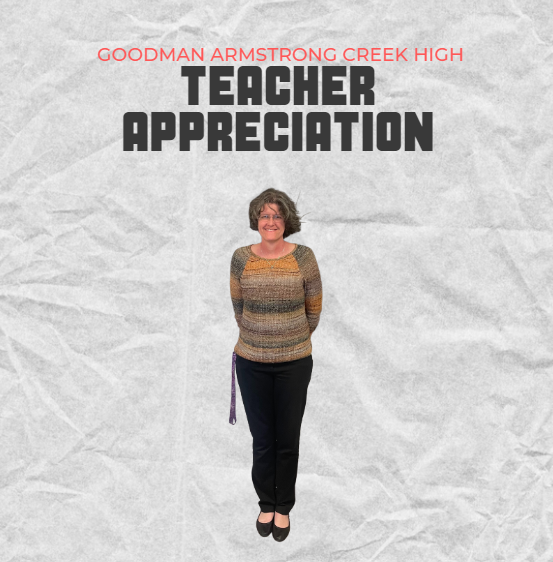 The Patriot Golf Team qualified for regionals yesterday at Mcauslin Golf Course. The whole team has played great this year considering for 7 of the 10 players, this is the first year golfing. Great job and go Patriots.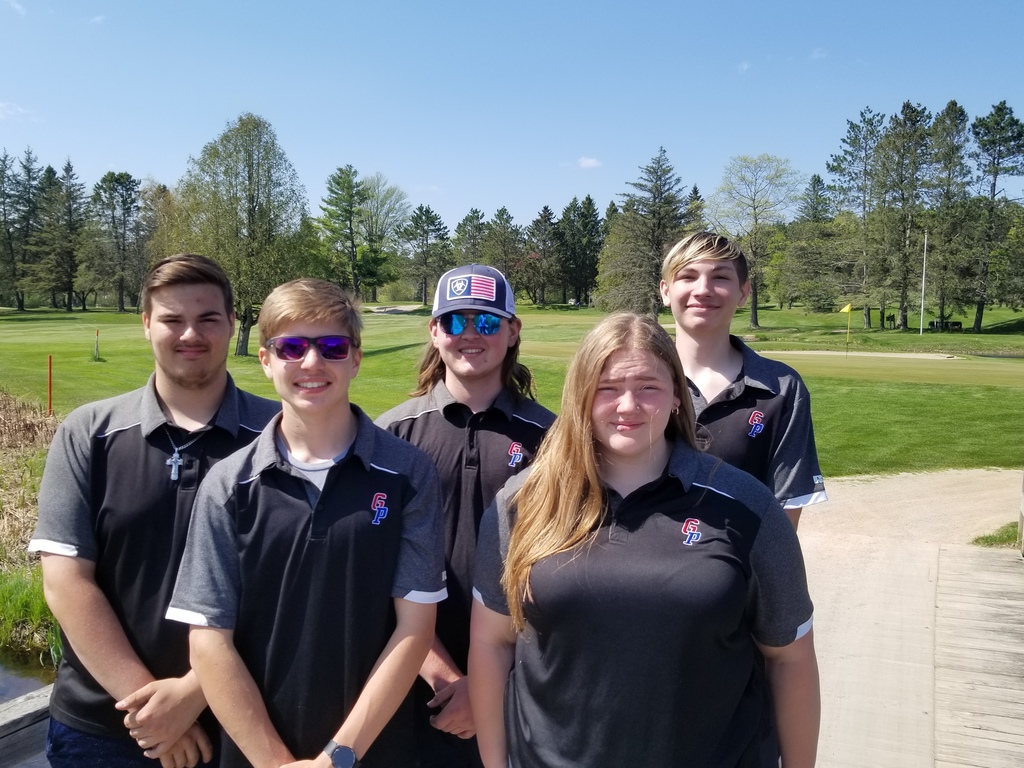 Today we are appreciating Mrs. Slawinski! How long have you been teaching here? I have been teaching ELA for 7-12 at GAC for 4 years. This is my first year as the Reading teacher K-12. What are some things you like about teaching at a small school? From the moment I pictured myself as a teacher, I envisioned myself in a small school. Working at a small school allows me to form meaningful and authentic relationships that are difficult in larger schools. I love that the students, staff, and community become an extension of your family. When I read a book or an article for class, I know which students will love it, which will struggle with it, and which ones need to hear the message in it allows me to make connections from the text to the student as a unique individual. This is beautiful because true learning is personal. What made you want to become a teacher? Because of the caring support throughout my life, I choose to share the gift of the passion for learning that I have been given. Learning is about community and making connections to the world in a relevant and lasting way. I know I wanted to be a guide to this fellowship and all the benefits it offers. What do you like to do for fun when you are not teaching? From going to support our Goodman-Pembine Patriots to watching a movie at home. I love to spend time with my family and friends. I enjoy dancing, doing yoga, and traveling with my family. But those who know me, know that I love to learn, so I spend a great deal of time reading. What did you do before you worked here? Before I worked at GAC, I attended UW-Green Bay for English Education. I worked at the Stephenson Public Library and the Dome Lanes. At one point, my husband and I were in partnership with some of our best friends running mixed martial arts gyms with locations in Peshtigo, Green Bay, and Menominee. We are truly thankful for all that Mrs. Slawinski does for us here at GAC!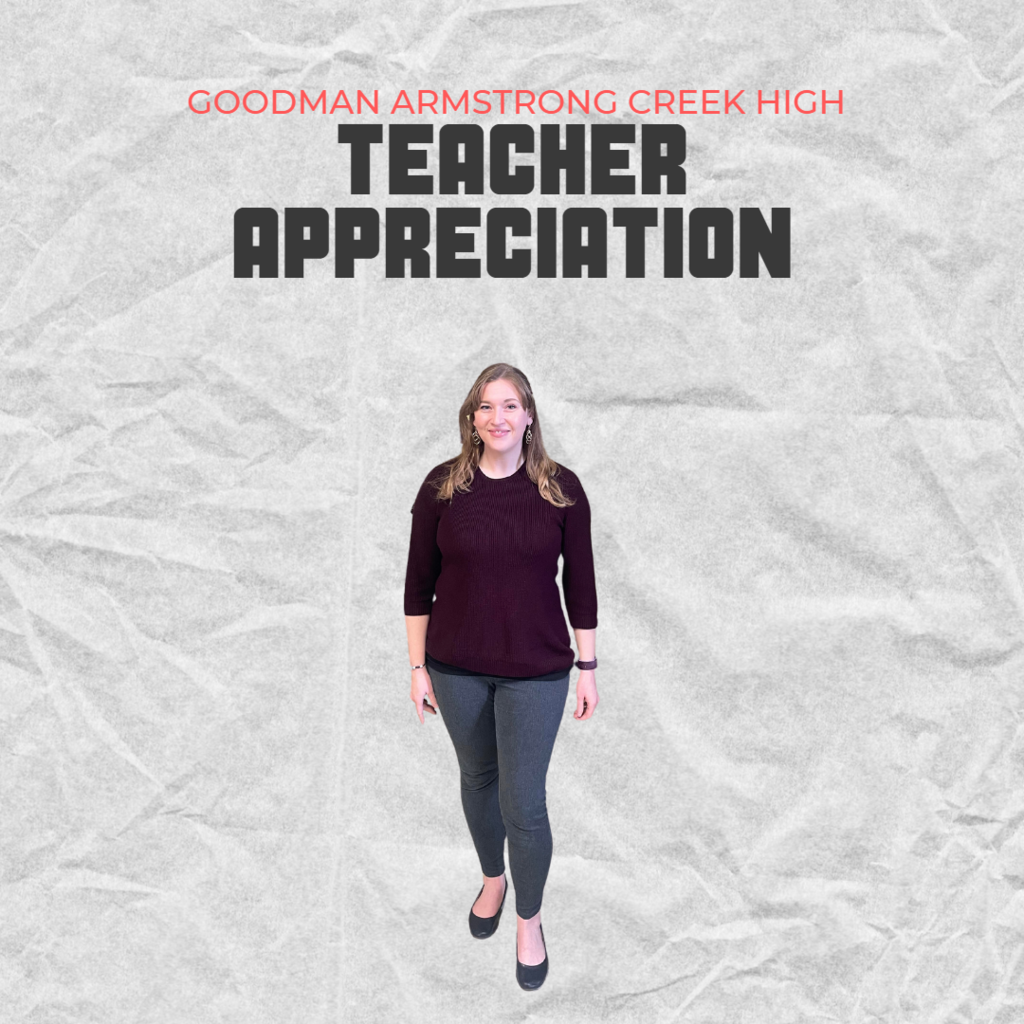 A huge thank you to Kevin Rocque and Blake & Mandy Rocque for helping with our PTO's main fundraiser at the 8-Hi Club on Sunday, April 2nd. Kevin was our MC and Blake & Mandy, the new owners, helped make our annual smelt fry a huge success. Thank you to all who donated prizes, food, or volunteered to help in any way, including the cooks: Blake, Chuck & Beth Samuel, John & Donna Benzo, Tony Cook , and George Rocque. It is greatly appreciated. We couldn't do it without you! Profits from this fundraiser will be used for grade school and high school educational needs as well as extras such as a nice meal for the state forensic group and helping with field trips.
Noodle Monsters......RUN!!!!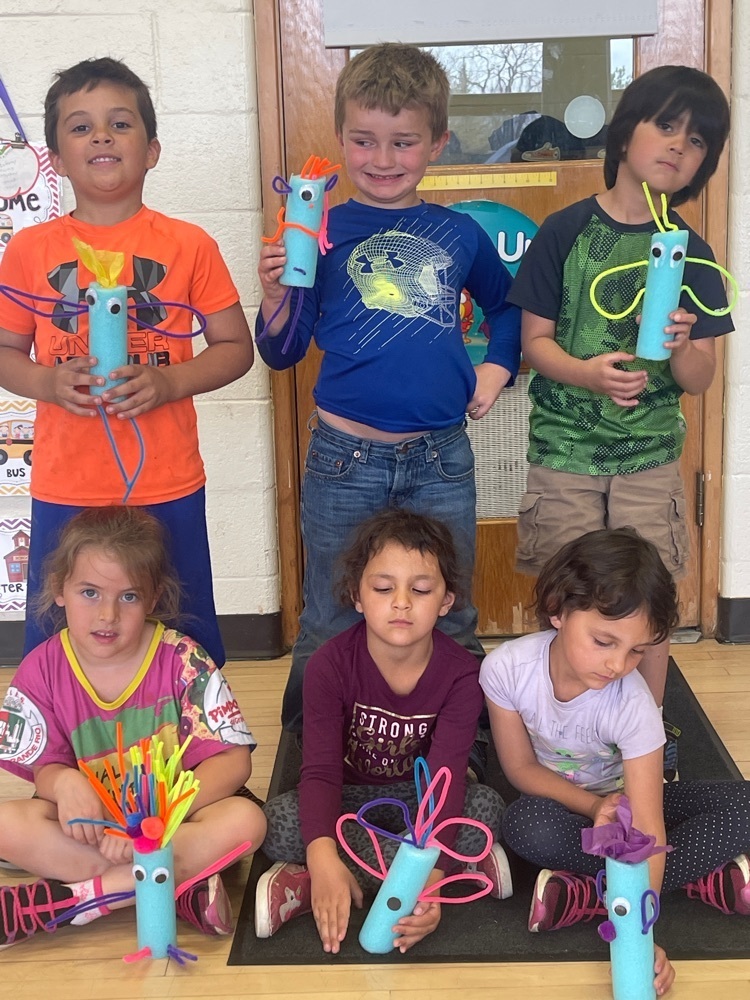 Noodle Day Pencils!!!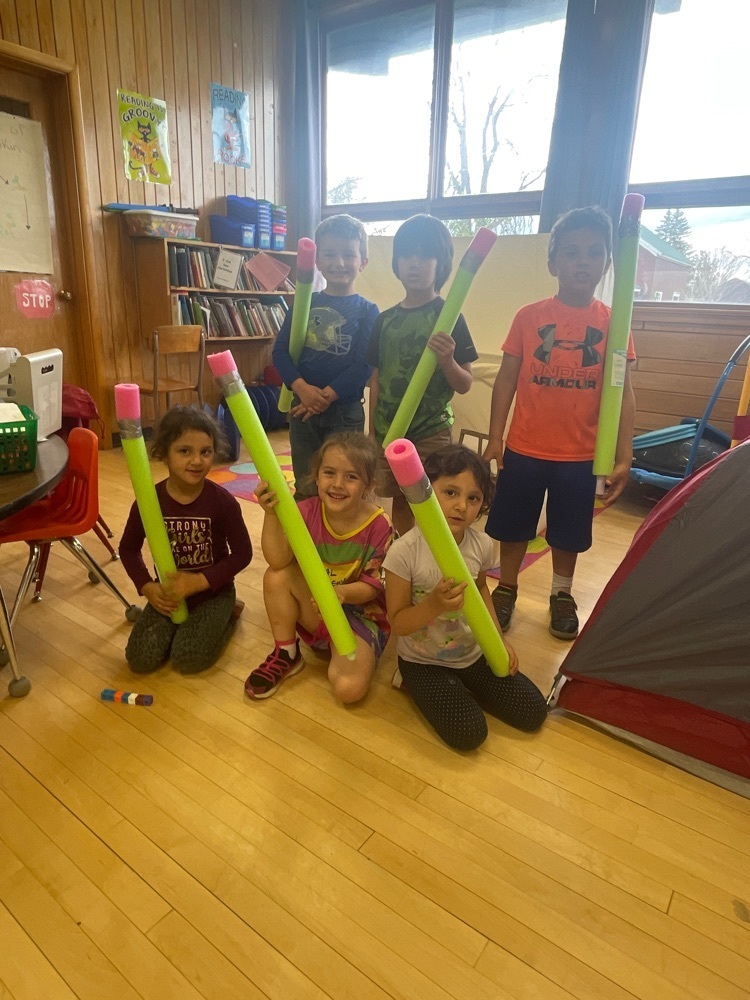 Today we are thankful & appreciative of Ms. Paulson! Bryson asked Ms. Paulson the following questions... How long have you been teaching here? This is my 8th year. What are some things you like about teaching at a small school? The relationships that you build when teaching in a small school are like none other. The students and staff here are not just names on a page. They are my friends and family. The girls I used to watch play Little House on the Prairie are now competitively challenging other teams in basketball and volleyball. The students who used to write creative stories in 3rd grade are now writing plays. I love watching students' interests, passions, and talents grow and develop as they move through their years at GAC. We have such a talented, caring, fantastic group of students! What made you want to become a teacher? Teaching is in my blood. My dad was a math teacher, my mom was a paraprofessional, and both of my grandmothers were teachers. In fact, I just found out one of my relatives probably started the first hot lunch program in Wisconsin when she taught at the Engelking School in Armstrong Creek. When I was little, I used to teach imaginary classrooms if my sister and my brother wouldn't play school with me. (I couldn't figure out why they didn't want to be the students all the time. Haha!). The desire to teach never left and I went to college for teaching right after high school. Now I continue to do what I love! What do you like to do for fun when you aren't teaching? I love being outside, studying the Bible, being with family, and traveling. What did you do before you worked here? I taught English in Guatemala for 4 months before I taught 4th grade for a year in Minnesota. I missed the starry night sky and the country, so I moved home and got a job at GAC. I have loved working here! If you have any pets what are they and their names... Toby, my 5-year-old black lab mix, loves to adventure with me outside! Is there anything else you would like to share? GAC is the best school! When I came 8 years ago, I didn't plan to stay. I fell in love with the community and the school and now I don't want to leave! We are truly thankful to have Ms. Paulson here at GAC!